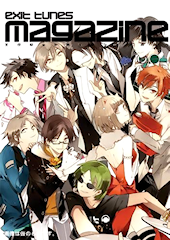 Utatte Mita no Hon Bessatsu exit tunes magazine
Release Date: 10/1/12
Price: 1400 yen (CD+Mook) or 2800 (CD+DVD+Mook)
A special edition of Utatte Mita no Hon magazine devoted to only Exit Tunes. You can buy the mook either with a CD or with a CD+DVD. The CD will features songs from Exit Tunes, including yet another cover of "Ama no Jaku," this time by new Vocaloid, Mayu. The DVD will features performances from the Exit Tunes Academy live tour.
For more info on the contents of the mook, check out stephieku's post on Ofurutaimu. I wonder if the Exit Tunes history section will mention Quake/Exit Trance?
01. Onyanoko Kinenbi / Sekihan
02. Kakurenbo / Touyu
03. Moyashi Otoko / ?? (Underbar)
04. Kimi no Me wo / Soraru
05. Haru Iro Portrait / Shamuon
06. Sora e Drive / Glutamine
07. Caramel Sugar / Mayumi Morinaga
08. Ama no Jaku / Mayu