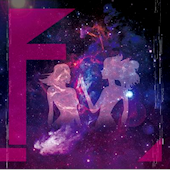 F
Artist: Hime*Matsuri
Release Date: 2/8/12
Price: 2190 yen
From the makers of The Best of K-Pop Densetsu. Focuses solely on Macross F (Frontier) themes, hence the title. At least it wasn't yet another Evangelion tribute album. Also available on iTunes Japan.
01. Sayonara no Tsubasa
02. Iteza*Gogo Kuji Don't be late
03. Universal Bunny
04. Northern Cross
05. Diamond Crevasse
06. What 'bout my star @Formo
07. Seikan Hikou
08. Watashi no Kare wa Pilot
09. Houkago Overflow
10. Silent de Nanka Irarenai
11. Ninjin Loves You Yeah!
12. Infinity
13. Lion
14. Triangler
Pre-order at CDJapan.