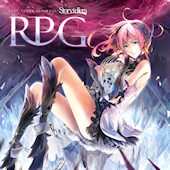 Exit Tunes presents Storytellers RPG
Release Date: 11/7/12
Price: 1905 yen
A new series from Exit Tunes. Originally titled "Exit Tunes presents Concept Beat" and then "Exit Tunes presents Social Network Music ~Concept #01: RPG~," it looks like Quake have finally settled on a name. It seems that it'll be a concept album with each of the arrangers composing a traditional RPG theme. Bonus items include a cell phone strap, clear file, and B2-sized poster.
01. Sleipnir / Harry (Harry P) (Theme: Tabidachi Tenba)
02. Kodoku no Partiment / Yuzuhiko (Theme: Ginyuushijin)
03. Dance with enemy / Teniwoha (Theme: Battle)
04. Imaginary Like the Justice / Nanahoshi Kangen Gakudan (Theme: Yuusha)
05. Title Mitei / Chou Chou P
06. Title Mitei / Mikito P
07. Title Mitei / Deadball P
08. Title Mitei / 164
09. Title Mitei / YM
10. Title Mitei / Faye P
11. Title Mitei / Tsunamaru
12. Title Mitei / LeftyMonster P
Pre-order at CDJapan.