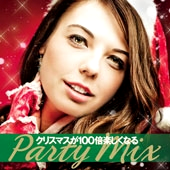 Christmas ga 100-bai Tanoshiku Naru Party Mix
Release Date: 11/7/12 ? 11/14/12
Price: 1886 yen ? 1714 yen
Update (11/12/12): It's officially part of the V.I.P. series. There'll also be a digital version available for 900 yen, but it's unclear if the digital version will be mixed.
Final list is out, and the 14 recent Saifam productions are indeed included, plus the special winter version of Che'nelle's "Baby I Love U," for a total of 15 tracks. The price has also been lowered just a tad to 1714 yen. No indication of whether it'll be included as part of the Dancemania series.
01. All I Want for Christmas Is You (A.R. Remix) / Gloriana
02. Last Christmas (R.P. Remix) / DJ Hush
03. Christmas Eve (R.P. Remix) / DJ Kee
04. White Christmas / Lawrence
05. Do They Know It's Christmas? / DJ Moonraker
06. Jingle Bells (Ricky Remix) / DJ Space'C
07. Sleigh Ride (A.R. Christmas Remix) / DJ Kee
08. Rudolph the Red-Nosed Reindeer (Pier Remix) / Plaza People
09. Santa Claus Is Coming to Town (Christmas Remix) / D'Mixmasters
10. Silent Night / DJ Hush
11. Ave Maria / DJ Ogar
12. Merry Christmas, Mr. Lawrence (Ricky Remix) / Richard Hurt
13. Amazing Grace (Ricky Remix) / Axel Force
14. Happy Xmas (War Is Over) (A.R. Remix) / DJ Gang
15. Baby I Love U -Winter Ver.- / Che'Nelle
Pre-order at CDJapan.