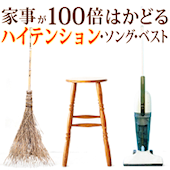 Kaji ga 100-bai Hakadoru High Tension Song Best
Release Date: 12/26/12
Price: 900 yen
Digital only release from EMI that's somewhat related to their Drive ga 100-bai Tanoshiku Naru series. The first part of the title translates roughly to "Make Housework Go by 100 Times Faster," hence the cover art. The track list consists of 80s and 90s eurodance hits. It's also up on iTunes Japan, where it's listed as Top Cheer Up Songs (House Keeping Edition).
01. [4:54] My Sharona (2002 – Remaster) / The Knack
02. [2:30] We Got the Beat (2011 – Remaster) / The Go-Go's
03. [3:18] Trouble / Shampoo
04. [3:32] Are You Gonna Go My Way / Lenny Kravitz
05. [4:15] U Can't Touch This / MC Hammer
06. [3:03] That's The Way (I Like It) (Edit) (2004 Digital Remaster) / KC & The Sunshine Band
07. [4:39] Tubthumping / Chumbawamba
08. [3:22] Dub-I-Dub / Me & My
09. [2:56] Butterfly / Smile.dk
10. [4:12] Karma Chameleon (2002 – Remaster) / Culture Club
11. [4:23] The Reflex (Single Version) (2010 Digital Remaster) / Duran Duran
12. [3:37] Centerfold (2006 – Remaster) / J. Geils Band
13. [3:53] The Power Of Love (2006 Digital Remaster) / Huey Lewis & The News
14. [2:46] The Loco-Motion (2011 – Remaster) / Grand Funk
15. [4:04] Heaven Is a Place on Earth (2009 Digital Remaster) / Belinda Carlisle
16. [2:47] Samba de Janeiro / Bellini