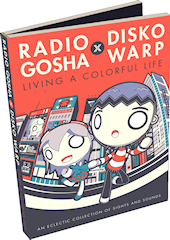 Radio Gosha x Disko Warp: Living a Colorful Life
Release Date: 3/1/13
Price: ???
Update (1/31/13): The final track on the CD has been revealed, and it's a DJ Shimamura remix of "Oh Oh Sexy Vampire"! Very nice get! Also, for those who missed out on the Kickstarter, the CD+DVD is now available for pre-order on Disko Warp's Bandcamp page.
Disko Warp's latest (and hopefully last in the foreseeable future for my wallet's sake) Kickstarter has met its goal, which means pledgers will soon be getting their hands on a DVD compiling Radio Gosha's music videos for Disko Warp as well as a bonus remix CD. Over the course of the campaign, brand new remixes were announced, including a DJ Command eurobeat remix of one of my favorite Disko Warp songs, "Space Space Shooter." Oddly, there's still one remix left to be announced. Logic dictates that it'll be a "Less Than Three" remix since it's the only one that doesn't yet have a new remix, but I suppose we'll see.
It's unknown if the new remixes will be made available outside of the CD, so hopefully you pledged or will be able to get your hands on the CD during one of the spring conventions that Disko Warp will be attending.
Congratulations once again to Pete and GoshaDole!
Disc 1 (DVD) – Radio Gosha Music Video Collection
01. Less Than Three (Ricardo Autobahn Remix) / Becky
02. Oh Oh Oh Sexy Vampire (JUSTiNB's Video Edit) / Fright Ranger
03. Deadbeat Boyfriend (Disko Warp Main Mix) / Lucky Princess
04. U.F.O. Catcher / Initial P
05. Space Space Shooter (Disko Warp Brand New Remix) / Kick & Punch
06. Pussy Game (Disko Warp Speedy Mix) / Bonnie Maxx
07. Hej Sokoly / Initial P presents 'Half Polish'
Disc 2 (CD) – Disko Warp Perfect Collection + Next Level Remix!
01. Less Than Three (Ricardo Autobahn Remix) / Becky
02. Oh Oh Oh Sexy Vampire (JUSTiNB's Video Edit) / Fright Ranger
03. Deadbeat Boyfriend (Disko Warp Main Mix) / Lucky Princess
04. U.F.O. Catcher / Initial P
05. Space Space Shooter (Disko Warp Brand New Remix) / Kick & Punch
06. Pussy Game (Disko Warp Speedy Mix) / Bonnie Maxx
07. Hej Sokoly / Initial P presents 'Half Polish'
08. Less Than Three (James Rize Remix) / Becky
09. Oh Oh Oh Sexy Vampire (Francisco Gaitan Remix) / Fright Ranger
10. Deadbeat Boyfriend (Super Science "Type BF" Remix) / Lucky Princess
11. U.F.O. Catcher (Ian K & Doughboy Remix) / Initial P
12. Space Space Shooter (AKBK "DJ Command" Remix) / Kick & Punch
13. Pussy Game (J-Mi & Midi-D Remix) / Bonnie Maxx
14. Hej Sokoly (This Is The Rainbowdragoneyes Remix) / Initial P presents Half Polish