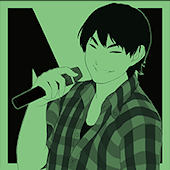 Akiba Koubou presents Utatte Mita Collection Mao
Artist: Mao
Release Date: 4/27/13
Price: 952 yen
Eighth wave of Utatte Mita singles from Akiba Koubou, though there's only one single in this wave. This one features male utaite, Mao. All resings, though "Ready Stead Go" is a pretty recent production.
The single will be available at Akiba Koubou's booth during the Nico Nico Cho Kaigi 2 event.
01. Ready Steady Go
02. Go!!
03. Rewrite
04. Cha-la Head-cha-la