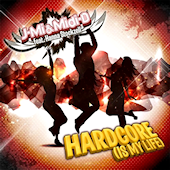 Hardcore (Is My Life) (Single)
Artist: J-Mi & Midi-D feat. Hanna Stockzell
Release Date: 5/13/13
Price: $9.50
The latest single from the Canadian duo and ex-Smile.dk member was finally released recently. Unfortunately, it's exclusive to Trackitdown, which only has 2 rather pricey options: $3.17 per track for 320kbps MP3, or $3.58 per track for WAV.
01. [4:01] Hardcore (Is My Life) (Radio Edit)
02. [5:40] Hardcore (Is My Life) (Original Mix)
03. [4:24] Hardcore (Is My Life) (Chris Unknown's UKN Records Remix)