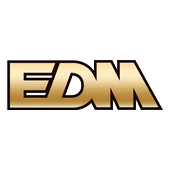 EDM ~Electronic Dance Madness~ 4
Release Date: 6/5/13 ? 6/26/13 ? Release Cancelled
Price: 2190 yen
Bad news for EDM fans. It seems that EDM 4 has been cancelled for the time being. I hope this isn't a result of Universal meddling. -_-
Update! DJ Tomo mentioned on his Twitter that the EMI/Universal merger was indeed responsible. Parlophone, formerly part of EMI and home to David Guetta and Coldplay (basically half of EDM), was sold off to Warner as part of the merger, so DJ Tomo was no longer able to use their songs freely. I wonder if he was in the middle of mixing the CD when the sale was finalized, and he wouldn't have been able to do an entirely new list in such little time?
He goes on to apologize to anyone who was looking forward to EDM 4. He does say that he's considering a new project, which may be released in August. There's no mention if the EDM series will continue in the future.
Unfortunately, this has bad implications for Dancemania as well. EMI subsidiaries in European countries like Denmark and Sweden were also sold off to Warner, so say good-bye to the likes of Me & My and Smile.dk 🙁
01. Titanium / David Guetta feat. Che'Nelle
02. Don't You Worry Child (Promise Land Remix) / Swedish House Mafia
03. Save the World (Knife Party Remix) / Swedish House Mafia
04. Where Have You Been (Hardwell Club Mix) / Rihanna
05. Channel 42 / deadmau5
06. Paradise (Fedde le Grand Remix) / Coldplay
07. Put Your Hands Up (If You Feel Love) (Basto's Major Mayhem Edit) / Kylie Minogue
08. We're All No One / Nervo ft. Afrojack, Steve Aoki
09. Dancing in My Head (Tom Hangs Remix) / Eric Turner vs. Avicii
10. Daddy (Third Party Remix) / Emeli Sande
11. War (Nari & Milani Remix) / Caspa feat. Keith Flint
12. Never Makes You Weak (Jerry Rekonius Remix) / Darwin & Backwall feat. Daniel Gidlund
13. Take Back Tomorrow (Sunnery James & Ryan Marciano Remix) / Goldfish
Pre-order at CDJapan.