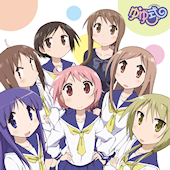 TV Anime "Yuyushiki" Character Song Album Ichigenme!
Artist: Jouhou Shoribu (Rumi Okubo, Minami Tsuda, Risa Taneda)
Release Date: 7/17/13
Price: 2381 yen (CD+DVD Edition) or 1905 yen (CD Only Edition)
Another Exit Tunes tie-in with the TV anime, "Yuyushiki." Features character theme songs composed and produced by top Vocaloid and Exit Tunes producers. Also features remixes by DJ Uto and Ryu*. The album comes in both a CD only version as well as a CD+DVD set. Bonus items for the CD Only version include a rubber character strap (1 of 7 designs) and mouse pad. Both versions come with a clear file (if you send in the postcard survey), and B2-size poster. If you buy all 3 Yuyushiki-related CDs, you can get a special pass case.
You can visit the official website for more info on the anime.
CD
01. Say No! / Fuwari P
02. Miracle Fancy / Lamaze P
03. Doki Doki Mani Mani / Another Infinity
04. Kore wa Yoshi Yoshi Shiki Jitai desu! ~Honto wa Honto wa…Nano~ / SCL Project
05. Yuru Buratto Ikou / Otsu P
06. friends / Asa
07. Miagete Mireba / Dead Ball P
08. Ayasumi no Michi / 164
09. Watashi wa Sou Kanjita / Lamaze P
10. Soyokaze Monologue / Heli P
11. Setsunairo / Another Infinity
12. Souiu Kuraino. / daniwell P
13. Watashitachi no Kizuna / azuma
14. Title Mitei / YM
15. Lady go!! / Hitoshizuku × Yama?
16. Affection / Another Infinity feat. Mayumi Morinaga
Bonus Track
17. Say No! (DJ Uto Remix)
18. Miracle Fancy (Ryu* Remix)
19. Title Mitei / Mikito P
20. Nan Tsuttettsu Chatta / Jouhou Shoribu
DVD
01. Say No! (TV Anime "Yuyushiki" Opening Theme) Non-Telop Eizou
02. Say No! (TV Anime "Yuyushiki" Ending Theme) Non-Telop Eizou
03. TV Anime "Yuyushiki" CM Eizou Shuu (Yaku 10 Pattern)
Pre-order at CDJapan.