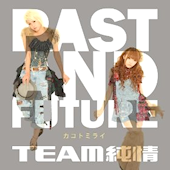 Past and Future
Artist: Team Jyunjyo
Release Date: 6/22/11
Price: $9.90
Album from the girls pop duo, Team Jyunjyo. Includes two songs produced by Tsukasa "Rayto/Tks" Baba. There are also two tracks attributed to MK, but it's unclear whether it's the MK from Exit Trance, Masakazu Kageyama. The album is available on iTunes as well as lots of other digital download services.
01. [3:25] Yahhoo!
02. [3:33] Rise
03. [4:23] Ai Asyurajennu
04. [4:21] Yokoshimanamikata
05. [4:21] Reborn
06. [3:48] Koushichae
07. [4:05] Vanilla Girl
08. [3:38] Hey, U & I
09. [4:27] Zutto So Fa La
10. [4:42] Past and future