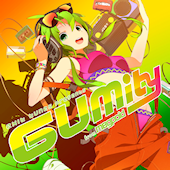 Exit Tunes presents GUMity from Megpoid
Release Date: 8/7/13
Price: 1905 yen
The sixth GUMI compilation from Exit Tunes, following GUMism, GUMitive, GUMish, GUMing and Gumitia. The title is a portmanteau of "GUMI" and "Infinity." Bonus items include a cell phone strap (1 of 5 designs), mouse pad (1 of 6 designs), poster, and clear file. Retailer-exclusive bonuses are mostly limited to postcards, posters, and alternative covers. Visit the official website for samples and more info.
01. Yukue Shirezu / Kojiroo feat. Gumi
02. Tokiko Funka / takamatt feat. Gumi
03. Karasu no Kaerimichi / YM feat. Gumi
04. Higurashi Moratorium / Total Objection feat. Gumi
05. Reiwai Terrorism / Zips feat. Gumi
06. Shokumotsu Rensa / otetsu feat. Gumi
07. Tatta Hitotsu no Dangan de / Nijihara Peperon (Peperon P) feat. Gumi
08. Kodama, Hekikai, Nayuta o Misadamu Aglaophonos no Shihen / Neru × Zauni feat. Gumi
09. Akushou Lolita Machiavellianism / Kairiki Bear feat. Gumi
10. Heart ni Hi o Tsukete / Nanahoshi Kangengakudan feat. Gumi
11. Dasshutsu Game / Yucha P feat. Gumi
12. Shounen Shoujo Moratorium Survive / Tokotoko P (Nishizawa-san P) feat. Gumi
13. Littly Emmy to Hoshi no Tegami / Scop feat. Gumi
14. Beside & Besides / Dead Ball P feat. Gumi
15. Yume Maboroshi / Darvish P feat. Gumi
16. Caseaman / vataco (Batapan P) × utml feat. Gumi
17. Shounen Noah to ? no Kaikou / cosMo @ Bousou P feat. Gumi
18. Tsugi Saku Hana no Iro wa / takanon feat. Gumi
19. end tree / 164 feat. Gumi
Pre-order at CDJapan.