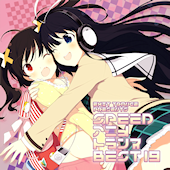 Exit Trance presents Speed Anime Trance Best 19
Release Date: 9/4/13
Price: 1905 yen
HOLY CRAP. It took them until 5 days before release to finally reveal a track list, but maybe it's because they didn't want to spoil the surprises. First of all, the Dizzi Mystica alias returns to Exit Trance with 4 tracks after skipping SATB 17 and 18 (though technically he was still present on those as Disco da Gama). The kinoto alias also comes back from retirement with a new song, though apparently Flash back Dominant and plazma were his aliases, so he hasn't really been gone, either. MK represents with 4 tracks, while Booing Day features with 3. Hommarju gets a bum deal with only 2 tracks, thought Icon gets it worse with only 1. A new artist by the name of airportexpress also makes his debut.
Now, here's the biggest shocker of them all: Acid=Stone Valley is back! I had to refresh the page a few times to make sure I wasn't seeing things, but apparently Acid=Stone Valley will indeed be making his glorious return to Exit Trance after being M.I.A. since 2010. It's only a single track, but it's exciting to see him back as he was an old favorite of mine. I can't help but wonder if Quake are purposely going back to their roots by heavily featuring old aliases and artists. Hopefully they make SATB 20 a proper anniversary release by asking back even more old ET artists.
The selected songs are mostly a good mix of recent anime offerings. I was admittedly rather perplexed to see "Uchuu Senkan Yamato" since it was already covered on one of the R25 albums, but apparently there was a recent sequel series that features a new arrangement of the old theme.
Oh, and why only a 1:15 edit for one of Dizzi Mystica's tracks? The entire album clocks in at around 1 hour and 10 minutes, so surely they could've given it more time. 🙁
01. [3:58] Preserved Roses / Flash back Dominant feat. hideki + mi-mi
02. [3:53] Fantastic Future / Booing Day feat. si-na
03. [3:46] Zero!! / Flash back Dominant feat. Latte
04. [4:12] Baby Sweet Berry Love / Booing Day feat. Sayuri
05. [3:31] Kono Sekai wa Bokura o Matteita / kinoto feat. puchi
06. [4:11] Genesis Aria / Icon feat. Natsuhi + R. Cena
07. [4:00] Henai no Rinbukyoku / Dizzi Mystica feat. hideki
08. [2:55] Hajimari no Resolution / Hommarju feat. yumemi
09. [4:24] Watashi wa Souzou Suru / airportexpress feat. Kana
10. [3:40] Koi wa Konton no Reiya / Booing Day feat. 405 + Sayuri
11. [3:35] Magi Love 2000% / Dizzi Mystica feat. Bavil + LTT
12. [1:15] Aku no Hana -Nakamaru Sawa- / Dizzi Mystica feat. 405
13. [3:37] Uchuu Senkan Yamato / MK feat. Yozu + Kana
14. [3:55] Small World Drop / Dizzi Mystica feat. Yurie
15. [3:36] Reason / MK feat. Ryo + Toru
16. [3:18] Save the World / MK feat. Latte
17. [4:02] Nanatsu no Umi yori Kimi no Umi / Hommarju feat. Yurie
18. [3:57] Date a Live / Acid=Stone Valley feat. Natsuji + maburu=choko
19. [3:27] The Misfit Go / MK feat. Toru
Pre-order at CDJapan.