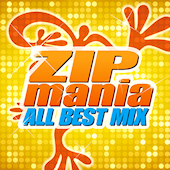 ZIPmania All Best Mix
Release Date: 11/13/13
Price: 2190 yen
Dancemania lives! ZIPmania All Best Mix has been resurrected from the dead and will (hopefully) come out this November!
There's also a new early list out, and dare I say it? It's not that bad. There's quite a bit of EDM, and even the more mainstream artists mostly appear with remixes. Dancemania gets representation in the form of Misa, E-Rotic, and Crazy Frog (uggh), though there's also eurodance from Da Buzz and O-Zone, the latter of which appears in Almighty form. Even trance gets in on the action, with Groove Coverage and DJ Ten's remix of "Ass Up!" making appearances. Also interesting will be a newly commissioned dance remix of Che'Nelle's "Aishiteru."
I swear, if they cancel this again…
01. Aishiteru (Saishin Remix) / Che'Nelle
02. Mr. Saxobeat (Maan Studio Remix) / Alexandra Stan
03. Sexy and I Know It / LMFAO
04. Spectrum / Zedd feat. Matthew Koma
05. Good Time (Wideboys Remix) / Owl City and Carly Rae Jepsen
06. Give Me Everything / Pitbull feat. Ne-Yo, Afrojack & Nayer
07. Poker Face (LLG vs GLG Club Mix) / Lady Gaga
08. Yeah! 3x (Versatile Radio Mix) / Chris Brown
09. Right Round / Flo Rida feat. Ke$ha
10. Levels / Avicii
11. Take Over Control (kz Remix) / Afrojack
12. Acapella (David Guetta Extended Mix) / Kelis
13. Don't You Worry Child / Swedish House Mafia
14. Hello / Martin Solveig & Dragonette
15. Chasing the Sun / The Wanted
16. Do It Like That / Ricki-Lee
17. Good Times / Roll Deep
18. Dragostei din Tei (Almighty Mix) / O-Zone
19. Axel F / Crazy Frog
20. Ass Up! (DJ Ten Remix) / Baracuda
21. Wanna Be with Me? / Da Buzz
22. 7 Years & 50 Days (Cascade vs. Plazmatek Remix) / Groove Coverage
23. Banzai / Misa
24. Willy Use a Billy…Boy (Willy's Latest Mix) / E-Rotic
Pre-order at CDJapan.