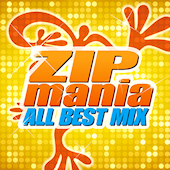 ZIPmania All Best Mix
Release Date: 11/13/13
Price: 2190 yen
Final list and cover art are out. It's great to see the Dancemania mascot being so prominent. 😀
The final list is pretty much the same as the early one, so not much new info other than the addition of "Why Don't You" by Gramophonedzie, and the Che'Nelle remix being done by ZIP staff. I'm a bit disappointed that there are really only 3 Dancemania tracks, with one of them from Crazy Frog. It's nice to know EMI still have the rights to E-Rotic and Misa, but Captain Jack is the second-most prolific Dancemania artist, and the fact that he's not present here makes me wonder if they let the rights go.
Still, not a bad list overall. I could probably do without the more mainstream, non-remixed songs from LMFAO and Flo Rida, but at least most of the other mainstream songs are here in remixed form. In particular, I'm glad they licensed the kz remix of "Take Over Control" from FARM since it's an awesome remix that breathes new life into the song.
01. Good Time (Wideboys Remix) / Owl City and Carly Rae Jepsen
02. Yeah! 3x (Versatile Radio Mix) / Chris Brown
03. Sexy and I Know It / LMFAO
04. Poker Face (LLG vs GLG Club Mix) / Lady Gaga
05. Take Over Control (kz Remix) / Afrojack
06. Hello / Martin Solveig & Dragonette
07. Good Times (Extended Club Mix) / Roll Deep
08. Axel F (Club Mix) / Crazy Frog
09. Wanna Be with Me? / Da Buzz
10. Dragostea din Tei (Almighty Mix) / O-Zone
11. Banzai (Apogeous Extended) / Misa
12. Willy Use a Billy…Boy (Willy's Latest Mix) / E-Rotic
13. 7 Years & 50 Days (Cascade vs. Plazmatek Remix) / Groove Coverage
14. Ass Up! (DJ Ten 2006 Remix) / Baracuda
15. Do It Like That / Ricki-Lee
16. Right Round / Flo Rida feat. Ke$ha
17. Mr. Saxobeat (Maan Studio Remix) / Alexandra Stan
18. Why Don't You / Gramophonedzie
19. Chasing the Sun / The Wanted
20. Acapella (David Guetta Extended Mix) / Kelis
21. Levels / Avicii
22. Give Me Everything / Pitbull feat. Ne-Yo, Afrojack & Nayer
23. Spectrum / Zedd feat. Matthew Koma
24. Don't You Worry Child / Swedish House Mafia
25. Aishiteru (ZIP Remix) / Che'Nelle
Pre-order at CDJapan.