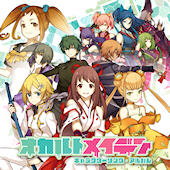 Occult Maiden Character Song Album
Release Date: 12/18/13
Price: 2381 yen (CD+DVD Edition) or 1905 yen (CD Only Edition)
A new collaboration between Square Enix and Exit Tunes. Occult Maiden is an iOS/Anrdoid mobile game, and this CD will have characters from the game singing their own themes. Producers include Exit Tunes mainstays like Starving Trancer, YM, and Dead Ball P. Also includes two bonus remixes by DJ Uto and Ryu*. The CD+DVD version includes a DVD with preview videos and commercials. Bonus items include a cell phone strap (1 of 12 designs), poster, clear file, and a serial code for a rare item in the game. Visit the official website for more info.
01. Soukyuu no Chikai / Starving Trancer
02. Hanafubuki / Starving Trancer
03. Togari / YM
04. Zettai Kakujitsumi Teki Hissatsu Kanzenchouaku Gekkabijin / Dead Ball P
05. Tomoshibi / Mitsuyasu Yanagida
06. UnCommon Soul / Mitsuyasu Yanagida
07. Sai wa Nagerareta / Mayumi Morinaga feat. Shun Narita
08. Shikkoku no Anata / Starving Trancer
09. Kakumei no Yaiba / Shun Narita
10. Yattane! Occult Maiden / azuma
Bonus Tracks
11. Shikkoku no Anata (Ryu* Remix) / Starving Trancer
12. Soukyuu no Chikai (DJ Uto Remix) / Starving Trancer
Pre-order at CDJapan.