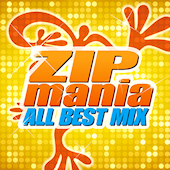 ZIPmania All Best Mix
Release Date: 11/13/13
Price: 2190 yen
Update (11/25/13): A bit of good news for Dancemania fans. ZIPmania All Best Mix managed to snag a spot on the Oricon weekly Top 100, debuting at 97 for the week of its release. It's far from the days when Dancemania releases routinely broke the Top 20, but when you compare it to VIP X (115), Super Eurobeat Vol. 225 (182), Speed Anime Trance Best 19 (111) or even Dancemania Party (184), it's a surprisingly solid number. ZIPmania's companion release, ZIP Hot 100, debuted at 125.
And for those that missed it in the comments, the old Dancemania website has been reproduced on Universal's site: http://microsites.universal-music.co.jp/dancemania/
Update (11/20/13): Finally got my copy and gave it a few listens. It's a pretty enjoyable experience overall, in part due to the variety of tracks. The eurodance and trance sections are the best parts, though I also really enjoyed the selection of EDM. The more mainstream, un-remixed Universal tracks are a bit of a drag, though, and I'll probably skip them in the future (seriously, E-Rotic lyrics make more sense than The Wanted lyrics). My favorite tracks on the album are the relatively new ones. The kz remix of "Take Over Control" is amazing, and the synths on the ZIP remix of "Aishiteru" are fantastic.
The mixing is a bit of a mixed bag (pun intended), which is a bit disappointing since ZIPmania releases tended to have incredible transitions (Stomp to My Beat -> No Limit is the stuff of legends). There are a few lazy transitions and some of the beat mixing is a bit off. Elements from preceding/proceeding songs have a tendency to be too loud and end up drowning out the main track. I like the idea behind some of the transitions, but wish they had been more gradual.
Dancemania fans will be happy to know that the cover art was once again done by Shuichiro Murata, which is good to see since he wasn't responsible for Enka Speed's cover. Also, if you buy this and ZIP Hot 100 1993-2013 All Time No. 1 Hits, the obi strips form a combined picture, which is a neat touch. Unfortunately, my copy of ZIP Hot 100 appears to have some sort of defect that affects track 22. I tried it on 2 different drives and both had trouble reading the area >(
Final list and cover art are out. It's great to see the Dancemania mascot being so prominent. 😀
The final list is pretty much the same as the early one, so not much new info other than the addition of "Why Don't You" by Gramophonedzie, and the Che'Nelle remix being done by ZIP staff. I'm a bit disappointed that there are really only 3 Dancemania tracks, with one of them from Crazy Frog. It's nice to know EMI still have the rights to E-Rotic and Misa, but Captain Jack is the second-most prolific Dancemania artist, and the fact that he's not present here makes me wonder if they let the rights go.
Still, not a bad list overall. I could probably do without the more mainstream, non-remixed songs from LMFAO and Flo Rida, but at least most of the other mainstream songs are here in remixed form. In particular, I'm glad they licensed the kz remix of "Take Over Control" from FARM since it's an awesome remix that breathes new life into the song.
01. [3:50] Good Time (Wideboys Remix) / Owl City and Carly Rae Jepsen
02. [4:10] Yeah! 3x (Versatile Radio Mix) / Chris Brown
03. [1:57] Sexy and I Know It / LMFAO
04. [2:03] Poker Face (LLG vs GLG Club Mix) / Lady Gaga
05. [3:46] Take Over Control (kz Remix) / Afrojack
06. [2:15] Hello / Martin Solveig & Dragonette
07. [2:29] Good Times (Extended Club Mix) / Roll Deep
08. [2:33] Axel F (Club Mix) / Crazy Frog
09. [2:53] Wanna Be with Me? / Da Buzz
10. [2:38] Dragostea din Tei (Almighty Mix) / O-Zone
11. [2:43] Banzai (Apogeous Extended) / Misa
12. [1:58] Willy Use a Billy…Boy (Willy's Latest Mix) / E-Rotic
13. [3:34] 7 Years & 50 Days (Cascade vs. Plazmatek Remix) / Groove Coverage
14. [4:00] Ass Up! (DJ Ten 2006 Remix) / Baracuda
15. [2:46] Do It Like That / Ricki-Lee
16. [2:45] Right Round / Flo Rida feat. Ke$ha
17. [2:50] Mr. Saxobeat (Maan Studio Remix) / Alexandra Stan
18. [2:28] Why Don't You / Gramophonedzie
19. [2:21] Chasing the Sun / The Wanted
20. [2:45] Acapella (David Guetta Extended Mix) / Kelis
21. [2:07] Levels / Avicii
22. [3:56] Give Me Everything / Pitbull feat. Ne-Yo, Afrojack & Nayer
23. [2:40] Spectrum / Zedd feat. Matthew Koma
24. [3:57] Don't You Worry Child / Swedish House Mafia
25. [3:52] Aishiteru (ZIP Remix) / Che'Nelle
Pre-order at CDJapan.