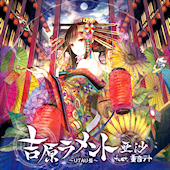 Yoshiwara Lamento ~Utau Ban~
Artist: Asa feat. Kasane Teto
Release Date: 2/5/14
Price: 1905 yen
Second major album from Vocaloid producer, Asa, who is most famous for "Yoshiwara Lamento." It's pretty much the same as Asa's first album, except instead of utaite this one will have vocals from Kasane Teto. Bonus items include a cell phone strap (1 of 3 designs), poster, and clear file. Retailer-exclusive presents have yet to be announced. You can visit the official website for samples and more info.
01. Yoshiwara Lamento
02. Meishou Roman
03. Ikebukuro Tasogare Night Club
04. Hoshi Yomi End Lover
05. Aishuu Rain Cafeteria
06. Kagami no Naka no Memories
07. Tokyo Day Break
08. Roppongi Baby Butterfly
09. Visual Kei Redrum
10. Dougenzaka Neon Apart
11. Hirenka Blossom
Pre-order at CDJapan.