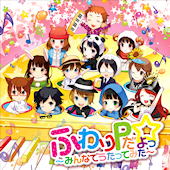 Fuwari P Da Yo ~Minna de Utatte Mita~
Artist: Fuwari P
Release Date: 3/5/14
Price: 1905 yen
A new album from Fuwari P. It appears that each song will feature vocals by a chorus composed of Inakamono, Usa, Sana, Shito, Sekihan, Nayugorou, Nobunaga, halyosy, Himawari, maro., Ryokun, and recog. Bonus items include a cell phone strap (1 of 13 designs), poster, and clear file. Visit the official website for more info.
01. Nijiiro no Haru
02. Yume no Katachi
03. Mataashita
04. Koko ni Aru Koto
05. Negaigoto
06. Kaerimichi
07. Ame ga Fureba
08. Shabadiba
09. Arata na Tsuzuki
10. Kyoumo Harebare
11. Present
Pre-order at CDJapan.