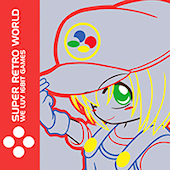 Super Retro World -We Luv 16Bit Games-
Release Date: 4/27/14
Price: 1000 yen
Oooh, now this one's personally very exciting. Renowned doujin circle, salvation by faith records, will be releasing a special Super Famicom/SNES remix CD during M3. Included will be themes from some of my favorite games like Super Mario Kart, Donkey Kong Country 2, and my all-time favorite, Final Fantasy VI. Artists include Takahiro Aoki, who provides an awesome remix of Shin Megami Tensei II's battle theme and hapi?, who'll be taking on one of my favorite themes from Final Fantasy VI.
01. Marika! Latin? Samba! / Yunyun & The Thick Tail (Super Mario Kart "Donuts Heiya")
02. Silence (pa,pa,pa,mix) / Kuroma (F-Zero "Silence")
03. Mystery Circus ([UU]) / minun (Super Bomberman "World 2")
04. Agstria Party Rock Night / Yamajet (Fire Emblem Seisen no Keifu "Agstria no Douran")
05. Hands Down / suimyu (Jikkyou Powerful Pro Yakyuu '94 "Bad End")
06. Biological Invasion / nabec (Darius Force "Zone BIO")
07. Douwa wa Natsukashiki Boukyaku no Kanata ni / Daisuke Ohnuma (Ihatovo Monogatari "Machi")
08. M.P. for Adv.II / Soalar (Super Donkey Kong 2 "Stage Select")
09. Shougeki Tokuhou Blastris Mugen Kaiten no Yami / Super Ruze (Super Scope 6 "Blastris B")
10. Battle (Shin Megami Tensei 2 Club Mix) / Takahiro Aoki (Shin Megami Tensei II "Tsuujou Sentou BGM")
11. Kessen in 2012AAS / hapi (Final Fantasy VI "Kessen")
12. I money love you 4ever even you died / Kether (Rockman X2 "Bubbly Crablos Stage")
13. RBR Melodies Connection Course 2 / hapi (Super Mario Kart "Rainbow Road")
Bonus Track
14. Yoshi to Minna no Theme (street mix) / Sebone Shoukai Avenue (Mario to Wario "Yoshi to Minna no Theme")