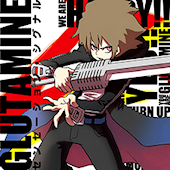 Sensational Signal (Single)
Artist: Glutamine
Release Date: 11/5/14
Price: 1500 yen (CD+DVD Edition), 1500 yen (CD+Strap), 1000 yen (CD Only)
First single from utaite, Glutamine. Comes in three flavors: CD+DVD, CD+Strap, or CD only. Animate also have special sets for 4,000 yen with all three single variations plus a special item (Talk Show Event Ticket or Message Card). Visit the official site for more info.
Pre-order at CDJapan.