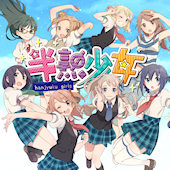 Exit Tunes presents Hanjyuku Girls
Release Date: 8/20/14
Price: 2000 yen
The girls version of Exit Tunes presents Actors. In other words, it'll have popular female Japanese voice actresses performing Vocaloid songs. Participating actresses include Aya Suzaki, Rumi Okubo, Hisako Kanemoto, Yu Kobayashi, Nozomi Yamamoto, Satomi Akesaka, Eriko Matsui, M?A?O. Bonus items include an alternative CD jacket. Retailer-exclusive bonuses are available from various shops. Visit the official site for samples and more info.
01. [4:07] Setsuna Trip / Last Note feat. Suzuha Miyama (CV: Aya Suzaki)
02. [4:45] Hello Laughter / Last Note. Takako Shirogane (CV: Eriko Matsui)
03. [4:10] Kunoichi Demo Koi ga Shitai / Mikito P feat. Kirara Myoujin (CV: Rumi Okubo)
04. [4:25] Shiryoku Kensa / 40mP feat. Miu Shiranami (CV: M?A?O)
05. [3:54] Kyou mo Harebare / Fuwari P feat. Tsumuji Shinato (CV: Hisako Kanemoto)
06. [8:13] Drama A Part: Dai ni Engeki Bu Butai [Dokoka ni Iru Kimi o Sagashite] / Nozomi Yamamoto
07. [3:31] Kimi to no Kakera / Starving Trancer feat. Haruka (CV: Mayumi Morinaga)
08. [3:06] Ama no Jaku / 164 feat. Runa Hanaoka (CV: Nozomi Yamamoto)
09. [4:22] Hikoukai Nisshi / Mikito P feat. Sekihide Katorena You (CV: Satomi Akesaka)
10. [3:47] Yoshiwara Lament / Asa feat. Akane Niwano (CV: Yu Kobayashi)
11. [17:18] Drama B Part: [Kore Hanseikai? Moshikashite Ochakai?] / Nozomi Yamamoto
12. [3:42] Juu Mensou / YM feat. Takako Shirogane (CV: Eriko Matsui)
13. [3:59] Iaru Fan Club / Mikito P feat. Runa Hanaoka (CV: Nozomi Uamamoto)
Pre-order at CDJapan.