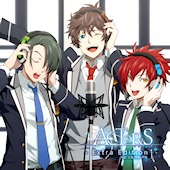 Exit Trance presents Actors -Extra Edition 1- feat. Mike, Kai, Chiguma
Release Date: 10/1/14
Price: 1500 yen
Mini-album in the Actors series, featuring a few Vocaloid covers and some drama tracks. Featured voice actors are Yuuki Ono, Takuya Eguchi, and Subaru Kimura. Visit the official website for more info.
01. [3:46] Yoshiwara Lamento / Asa
02. [4:12] Kazemachi Hello World / add9 (Heli P)
03. [4:48] Hatsune Miku no Shoushitsu / cosMo @ Bousou P
Bonus Tracks
04. [11:14] Kai no Karei Naru Curry (Drama Part A)
05. [11:27] Chiguma no Seitai Kansatsu (Drama Part B)
06. [12:07] Interview with Mike Enjouji (Drama Part C)
Pre-order at CDJapan.