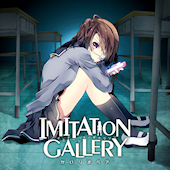 Imitation Gallery
Artist: Kairiki Bear
Release Date: 3/4/15
Price: 2100 yen
New album from Vocaloid producer, Kairiki Bear. Bonus items include 1 of 4 can badges and a postcard. Retailer-exclusive bonuses are also available. Visit the official website for samples and more info.
01. Mane Mane Psychotropic
02. Kanzen Chouaku Lolita Complex
03. Akushou Lolita Machiavellianism
04. Inai Inai Izonshou
05. Bousou Lolita Holic
06. Bakusai Pudding
07. Nijigen Sekai Kaihou Sengen
08. Aizou Drastic
09. Tsugihagi Ghost Neon
10. Pumpkin Lolita Night
11. Dream Killer
Pre-order at CDJapan.