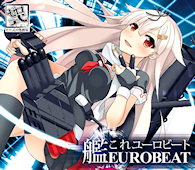 Kankore Eurobeat
Release Date: 1/19/14
Price: 1000 yen
You've probably heard of Touhou before, but there's a new game in town that's spawning tons of doujin releases. Kantai Collection, frequently shortened to "KanColle" or "KanKore," was a browser game with a warship theme released in 2013. For some reason it features girls dressed as warships, because Japan.
Kankore Eurobeat comes from the circle, ?´??)???????? (Shinzan Zeroshiki no Shokei Ba), and features eurobeat arrangements of KanColle themes. There's a physical CD available, but it's also up for purchase digitally at DLsite.
01. Eurobeat-ppoi "Tsugi Hatsu Souten, Saitotsunyuu!"
02. Eurobeat-ppoi "Chinjufu"
03. Eurobeat-ppoi "Nisui Ikusa no Kouseki"
04. Eurobeat-ppoi "Yasen"
05. Eurobeat-ppoi "Kaijou Goei Ikusa"
06. Eurobeat-ppoi "Tekikantai, Miyu!"
Bonus Track
07. Kankore Eurobeat Kai non stop mega mix