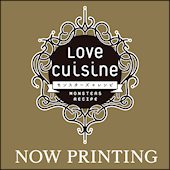 Love Cuisine ~Monsters Recipe~ Vol. 6
Release Date: 11/18/15
Price: 2600 yen
Another new drama CD series from Exit Tunes. Each volume will have a drama track as well as a theme song performed by different actors. Visit the official website for more info.
01. Drama Part
02. Original Theme Kyoku "Amazing Cuisine"
Pre-order at CDJapan.