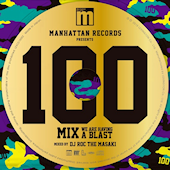 Manhattan Records presents 100 Mix We Are Having a Blast mixed by DJ Roc the Masaki
Release Date: 2/18/15
Price: 2200 yen
The second release in Manhattan Records' seemingly annual 100 Mix series. Features 100 songs on a single CD, though due to CD specifications the first track includes two songs. Exclusive to Tsutaya Records. You can listen to samples on Manhattan Records' web store.
01. Intro (We Are the Party) / DJ Roc The Masaki (DJ Antoine vs Mad Mark ft. X-Stylez, Two-M)
02. Wicked Wonderland / Martin Tungevaag
03. Don't Wanna Go Home / Michael Mind Project
04. One More Time / Bodybangers ft. Carlprit & Linda Teodosiu
05. Promise / Alex Gaudino feat. Jay Sean
06. Light Up the World (Paolo Ortelli & Luke Degree Edit) / Spankers feat. Lil Eddie
07. One In A Million (CJ Stone Radio Edit) / r.i.o. feat. U-Jean
08. Closer (David May Remix) / Ekow feat. Snoop Dogg & Kylian Mash
09. Do It On My Own / Remady & Manu-L feat. Craig David
10. This Is How We Do / Paulette
11. Break Free / Fringe
12. Check It Out / Chani feat. J Rae
13. I Will Never Let You Down / Paultte
14. Domino / Ehda
15. Flashbacks / Kristinia DeBarge
16. Fall Back / Abrina feat. Baby Bash
17. On the Floor / RokCity feat. Paulette & Chani
18. Problem / Fringe
19. Fancy / Nicki Bliss
20. Antiheroes / Michael Mind Project
21. Out of Control / Bodybangers feat. Linda Teodosiu & Rameez
22. Spring Love 2013 / Stevie B feat. Pitbull
23. Animal (Spankers Remix) / r.i.o. feat. U-Jean
24. Raindrops / Mo.ve. feat. 2 Chainz
25. NRG / Power Music
26. Oh, Pretty Woman / Goody Shack
27. Free Your Mind / Power Music
28. Girls Just Want to Have Fun / Golden V
29. I Wanna Dance With Somebody / Airi L
30. Get Ready for This / Power Artist
31. Here We Go (Let's Rock And Roll) / Power Music
32. U Can't Touch This / Chani
33. Bang Bang / J Rae & Fringe
34. We Will Rock You / Love Freak
35. Smells Like Teen Spirit / Power Trip
36. Dance Now (International Remix) / DJ Yin feat. Mc Stik-E, Freedom Williams (Of C+C Music Factory) & Platinum K.
37. Let Loose (Master March 2014) / DJ Mesta feat. Fatman Scoop, Shalli, B&L
38. Show Me Love (Official Festival Mix) / Michael Mind Project
39. Wanna See U Dance (KRONIC Version) / Kat Deluna
40. Shut It Down / Lumidee feat. Ceresia
41. Let Me Hear You Scream / Taj Jackson
42. In The Dark / Paulette
43. Push the Feeling On 2k12 / Glamrock Brothers & Sunloverz feat. Nightcrawlers
44. Drop It Low / Kat Deluna feat. Fatman Scoop
45. Tacata / Chani
46. Fireball / Chani
47. All My Ladies If You're Sexy (Latino Anthem) / DJ Kazzanova feat. Big Ali, G-zo, Wepa Man & Evey
48. In Your Arms / Mia Martina feat. Breyan Isaac
49. Push Push / Kat Deluna feat. Akon
50. Beautiful / Alex Gaudino feat. Mario
51. Save Me Tonite / Digital Heros feat. Flo Rida & Tony G
52. Like Ya Hollywood (Ortelli, Degree, Pat-Rich Edit) / Paolo Ortelli & Luke Degree feat. Katt Rockell & Jay Mula
53. Camouflage (Bodybangers Radio Edit) / M.iam.i feat. Flo Rida & Victoria Kern
54. Enemy (E-Partment Re-Edit) / Fire Tracks feat. Wiz Khalifa
55. Love is Going Nowhere / Diva feat. Pitbull & Taboo (from Black eyes Peas)
56. We Run the Night / Paulette feat. Chani
57. Don't Wanna Go Home / G.G.
58. Show Me / Chani feat. Junior Torrey
59. Na Na / G.G.
60. After the Love / r.i.o.
61. Let You Go / Young Marquis
62. Army / Sultan and Ned Shephard & Nervo feat. Omarion
63. In the Air (Hard Rock Sofa Remix Edit) / Morgan Page, Sultan, Ned Shepard & BT feat. Angela McCluskey
64. I Love It / Nicki Bliss
65. Wannabe / Starlet
66. Keep It Comin' (Dance Till You Can't Dance No More!) / Starlet
67. I Want Candy / Golden V
68. Macarena / Cover Up
69. I Can't Wait / Summer Kid
70. Conga / Power Music
71. Groove Is In The Heart / J Rae
72. Let's Groove / d'Macy
73. Get Down On It / Big Mama
74. Dancing Queen / Power Music
75. LLove / Kaskade feat. Haley
76. Vidorra / Martin Tungevaag
77. Hollywood Ending / Remady & Manu-L feat. J-Son
78. Angel Eyes / Waterfall feat. Akon & Play N' Skillz
79. Alive / Mya
80. Always About You / Taj Jackson
81. She Ain't You / Junior Torrey
82. My Moonshine / Vine Street feat. Akon & Savage
83. She Said Yes / Reynard Silva
84. Bang That Drum / Nabiha
85. Boom Clap / Paulette
86. Go With Your Heart / DJ Antoine vs Mad Mark feat. Temara Melek & Euro
87. Crazy (Radio Edit) / Lumidee feat. Pitbull vs Nicola Fasano & Steve Forest
88. Danse / Mia Martina feat. Dev
89. Animals / Power Trip
90. #Selfie / Paulette
91. Booyah / DJ Antos
92. Bad / Nicki Bliss
93. Madness / Cascada feat. Tris
94. Party Time / Spankers feat. Machel Montano & Fatman Scoop
95. Richest Man / Play-N-Skillz feat. Pitbull
96. Falling Down / Rock City
97. Brooklyn to You / Unique
98. Like the First Time / Lil Eddie
99. Empty Words / Jazmin Sisters