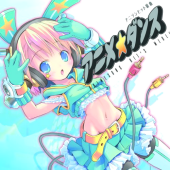 Anime*Dance ~Anison Hit Kumikyoku~
Release Date: 10/1/08
Price: 2190 yen
Saifam are out, but Digital Koubou, makers of the J-Euro tracks on Summer Story 2008, are in! Tracks 1 and 13 also appear on Super Anime Remix. Interesting to see so many companies licensing from Digital Koubou. They seem to be a growing force in the world of eurobeat.
Sadly, mioco is also missing in action. She's become somewhat of a mainstay in the world of FARM eurobeat, so it's odd to not see her included. Maybe she'll appear on Ghibli*Speed, though?
Final track list after the jump.
01. Triangular / Suzumi
02. Keikenchi Joushouchuu* / Flash Over feat. Aoharhythm
03. Gake no Ue no Ponyo / Animeking feat. Caoli
04. Watashi no Kare wa Pilot (Pinpon Mix) / MicA
05. Lie-Lie-Lie / NFPudding feat. Ryo
06. Crescendo / NFPudding feat. Hirow
07. Airman ga Taosenai (Akai Suisei Remix) / Team. Nekokan "Neko"
08. Makka na Chikai / NFPudding feat. Ryo
09. Uninstall (Humal Mix) / MicA
10. Dramatic / Big Mountain feat. Caoli
11. Hitotoshite Jiku ga Bureteiru / NFPudding feat. Bee'M, Hirow
12. Kasanaru Kage / MicA
13. Iteza*Gogo Kuji Don't Be Late / Suzumi
14. Massive Wonders (Yoshino Remix) / Flash Over feat. Rixi
15. Mezase Pokemon Master / Nene Emoto
Bonus Track
16. Ai, Oboete Imasuka (Night Hunter Karaoke Mix) / I.B.I.S. feat. Sakurai Seira
Pre-order at CDJapan