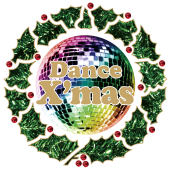 Dance X'mas
Release Date: 11/19/08
Price: 2427 yen
Instead of another Super Euro X'mas or X'mas Trance, Avex have decided to combine the two into a compilation known as Dance X'mas. It's mostly repeats, though there will be a few newer tracks present. One is "Wait for You," which I believe is a eurobeat cover of the Elliot Yamin song. What it has to do with Christmas, I have no idea. Tsukasa's new single, "Merry Christmas," will also appear as a bonus track.
Early track list after the jump.
01. At the Time of Christmas Carol / Michael Fortunati
02. Last Christmas / 7th Heaven
03. All I Want for Christmas Is You / Cherry
04. There Must Be an Angel / Leslie Parrish
05. Fantasy (M.I.D. Remix) / Virginelle
06. Happy Xmas (War Is Over) / Suzy Lazy
07. We Say Merry Christmas (Extended Mix) / Virginelle
08. Silent Night (Extended Mix) / Norma Sheffield
09. Holy Night / Michelle
10. My Love, Santa Clause / Cyber X feat. Jody Watley
11. It's Christmas Carols I Hear / Cyber X feat. Swank
12. All I Want for Christmas Is You / Castalia feat. Kim
13. Jingle Bells / Castalia
14. Rudolph the Red Nosed Reindeer / Plasticmen
15. Happy Xmas (War Is Over) / D-Nation feat. Kim
16. Merry Christmas Mr. Lawrence (Heart of Asia) / Watergate
17. Have Yourself a Merry Little Christmas / Cyber Nation feat. Sean & Kim
18. Wait for You / Ace
Bonus Track
Merry Christmas / Tsukasa
Pre-order at CDJapan