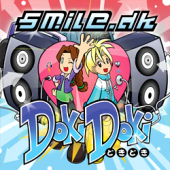 The Doki Doki digital single is now available for purchase on Amazon. Last I checked, it wasn't yet available on iTunes, but the official Smile.dk site says it should be up there soon.
The odd thing is that the bonus track, which was supposed to be a new remix of Butterfly featuring Veronica and Malin, is not included on the digital single. There's supposed to be a physical release of the single limited to 1,000 copies coming soon, so maybe the bonus track will only be included on the CD.
Here's the track list for the digital version:
01. Doki Doki (Radio Edit)
02. Doki Doki (Panik Mix)
03. Doki Doki (Extended Mix)
04. Doki Doki (Disko Warp Lockdown Mix)
05. Doki Doki (Cyber Systers Euro Mix)
06. Doki Doki (Dancecore Inc. Remix)
In other Smile.dk news, it was recently revealed on Bubblegum Dancer that Doki Doki will be appearing on DDR X (most likely the Japanese version). Also, Naoki will be collaborating with Smile.dk for an all-new song!