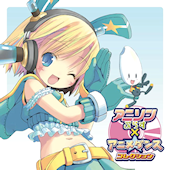 Anison Plus × Anime*Dance Collection
Release Date: 7/1/09
Price: 2381 yen
Originally scheduled for release on June 17, it's since been delayed to July 1. Anison (Anime Song) Plus is a Japanese TV show that showcases anime themes including live performances of said themes. This is a pretty huge coup for FARM, as I'm sure the TV show will be promoting the CD extensively.
One of the scheduled songs is a dance version of the "MapleStory" theme song. 25 songs are planned in all.
01. Monochrome Kiss
02. Shangri-La
03. Triangler
04. Zankoku na Tenshi no These
05. Keikenchi Soku Joujou
06. Pre-Parade
07. euphoricfield
08. Saikyou o× Keikaku
09. Love & Face
10. Ripple-chan no Theme
11. Kometsubu Revolution
Pre-order at CDJapan.