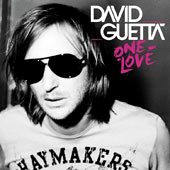 One Love
Artist: David Guetta
Release Date: 10/14/09
David Guetta is finally making a name for himself in the US with "When Love Takes Over" feat. Kelly Rowland. The song has a noticeably lighter, pop sound than the songs on his last album, ironically titled "Pop Life." His latest album comes out on August 24 in some regions, but the Japanese edition comes out a little later on October 14. Most likely it'll have some bonus tracks to make up for the late release.
01. When Love Takes Over feat. Kelly Rowland
02. Getting Over feat. Chris Willis
03. Memory feat. Kid Cudi
04. Missing You Even More feat. Novel
05. Sexy Bitch feat. Akon
06. One Love feat. Estelle
07. On the Dancefloor feat. Will.I.AM and APL
08. It's the Way You Love Me feat. Kelly Rowland
09. Sound of Letting Go feat. Chris Willis
10. I Wanna Go Crazy feat. WILL.I.AM
11. Toy Friend feat. Wynter
12. If We Ever feat. Makeba
13. Choose feat. Ne-Yo and Kelly Rowland