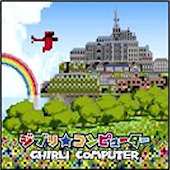 Ghibli*Computer
Artist: Bitman
Release Date: 10/2/09
Price: 1810 yen
Yet another Ghibli-themed release. Instead of pianos or speed trance, this release will remake classic Ghibli themes in a chiptune (i.e. 8-bit/Famicom) style. Chiptune music has been gaining a lot of traction recently, so don't be surprised if you see many more 8-bit compilations in the near future.
01. Gake no Ue no Ponyo (Inst)
02. Tonari no Totoro (Inst)
03. Rouge no Dengon (Inst)
04. Nausicaä Requiem (Vocal)
05. Mononoke Hime (Inst)
06. Kaze no Toori Michi (Vocal)
07. Take Me Home Country Roads (Vocal)
08. Kimi o Nosete (Vocal)
09. Umi no Mieru Machi (Inst)
Pre-order at CDJapan.