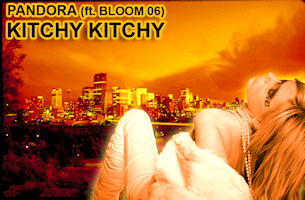 Kitchy Kitchy (Single)
Artist: Pandora feat. Bloom 06
Release Date: 3/16/10
The remixes are now available at Juno Download, but I don't think they're available on iTunes just yet.
I'm loving pretty much all of the remixes. I was a little wary of the R&B Mix, but it turned out great (and I love the great use of the "Ooh la la la" samples during the final instance of the chorus). The United Forces E-Mix is a little busy at times, but otherwise quite full of awesomeness.
01. [3:12] Kitchy Kitchy (Radio Edit)
02. [5:59] Kitchy Kitchy (Bloom 06 Remix)
03. [3:53] Kitchy Kitchy (United Forces E-Mix)
04. [3:14] Kitchy Kitchy (United Forces R&B Remix)
05. [5:33] Kitchy Kitchy (Playmaker's Remix)