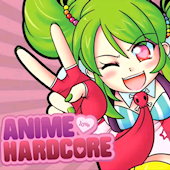 Disko Warp presents Anime Love Hardcore
Release Date: 4/5/10
Price: TBA
FRECKLES! Pretty solid selection of anime tracks, and the samples up on YouTube sound pretty good. The CD will be available at Sakuracon this weekend. Otherwise, you'll have to wait until April 5 to order the CD from the official Disko Warp website. The iTunes release will come even later, in May. Unfortunately, the iTunes release will be limited to the US only.
On a related note, Speedisko Vol. 2 was supposed to have been released in March, but it looks like it's been pushed back to a later date.
01. Catch You Catch Me (Cardcaptor Sakura) / Initial P feat. Toki
02. Sobakasu (Rurouni Kenshin) / Initial P feat. Diana Garnett
03. Zankoku na Tenshi no Te-ze (Evangelion) / Initial P feat. Diana Garnett
04. Heart of Madness (Hokuto no Ken) / Initial P feat. Yosuke
05. Delicate ni Sukishite (Creamy Mami) / Initial P feat. Toki
06. Theme from Lupin the 3rd '78 (Lupin the 3rd) / Initial P
07. Grip! (Inuyasha) / Initial P feat. Diana Garnett
08. Sorairo Days (Gurren Lagann) / Initial P feat. Toki
09. Gekkouka (Blackjack) / Initial P feat. Yosuke
10. Moonlight Densetsu (Sailor Moon) / Initial P feat. Diana Garnett