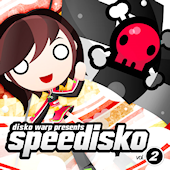 Disko Warp presents Speedisko Vol. 2
Release Date: 7/13/10
Price: $7.92
Speedisko Vol. 2 finally sees a release after a short delay. The album is now up for sale on iTunes and Amazon for $7.92.
"I Wanna Be a Ninja" is the lead track and happens to be one of my favorites on the album. I could do without the sped-up vocals, but I love the use of Japanese instruments and the lyrics are undeniably catchy. Who doesn't want to be a ninja?!
Another standout song, and perhaps my favorite on the album, is "Space Space Shooter," a eurobeat track with lots of 8-bit samples. Space Invaders is an obvious inspiration and after listening to this I'm suddenly finding myself in the mood for some alien-blasting action.
Speaking of video games, Thomas H. Lichtenstein of DDR fame also makes an appearance on the album with "Keep It Real." The song tries to imitate the Hyper Techno sound, but falls a little short. The synths are certainly there, but it lacks the energy of a true hyper techno song, particularly during the verses. I'd love to hear it with a different, more fitting remix.
Chris Jay, who previously did an awesome 80s PWL mix of "Oh Oh Sexy Vampire," returns for Speedisko 2 with another retro-inspired track. This time, it's a 90s eurodance remix of Peroxide Mocha's "Don't Have My Baby." The vocalist is great on the song, and sings the hysterical lyrics without a hint of irony.
01. [3:25] I Wanna Be a Ninja (Speedisko Version) / Becky
02. [4:49] Need to Find You (Initial P 2010 White Label Remake) / Justinb Feat. Charlotte
03. [5:18] Don't Don't Go Away (Ian K Remix) / Foxxie
04. [3:38] Space Space Shooter (Disko Warp Brand New Remix) / Kick & Punch
05. [4:10] I Love You Goodbye / Sonatia
06. [3:56] Keep It Real (Disko Warp Techpara Remix) / Thomas Howard Lichtenstein
07. [4:04] My Life Is So Crazy / Initial P
08. [3:58] Don't Have My Baby (Chris Jay Radio Edit) / Peroxide Mocha