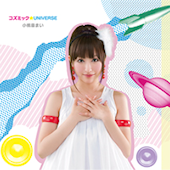 Cosmic*Universe (Single)
Artist: Mai Kotone
Release Date: 9/22/10
Price: 952 yen
Mai Kotone's fourth single. In addition to the title track, the single will also include her cover of "Renai Circulation," which previously appeared earlier this year on Aniime*Dance Best Gig. The single will be limited to just 5000 copies.
01. Cosmic*Universe
02. Renai Circulation
03. Happiness
04. Cosmic*Universe (Off Vocal)
05. Renai Circulation (Off Vocal)