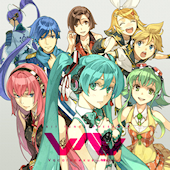 Exit Tunes presents Vocalonexus
Release Date: 1/19/11
Price: 1905 yen
Sixth in Quake's series of Vocaloid albums, following Vocarhythm, Vocalostar, Vocalolegend, Vocalogenesis, and Vocaloanthems. All orders come with a strap and fake credit card, and certain retailers will hand out B2 size posters. The CD also comes in a special sleeve case.
Visit the official website for more info.
01. Matryoshka / Hachi feat. Hatsune Miku
02. Hannya Shingyou Pop / Onew feat. Hatsune Miku
03. Paranoid Doll / SCL Project (natsuP) feat. Kamui Gakupo
04. Toricosity / 40mP feat. Hatsune Miku
05. Antichlorobenzene / Owata P feat. Kagamine Rin
06. Himitsu Keisatsu / Buriru feat. Hatsune Mikue
07. Netoge Haijin Sprechchor / Satsuki ga Tenkomori feat. Hatsune Miku
08. Shinpakusuu #0822 / Chouchou P feat. Hatsune Miku
09. MyLis Damee! / Live P feat. Kagamine Rin
10. Knife / Powercode P feat. Megurine Luka
11. Ie ni Kaeru to Tsuma ga Kanarazu Shinda Furi o Shite Imasu. / Hobo Nichi P feat. Hatsune Miku
12. ggrks -Gegerekasu- / Aamin P feat. Megurine Luka·Kamui Gakupo
13. Kurai Morio no Circus / Machigerita P feat. Kagamine Rin·Kagamine Len
14. Pane dhiria / Shinjou P feat. Kaito
15. Himitsu ~Kuro no Chikai~ / Hitoshizuku P feat. Kagamine Rin·Kagamine Len
16. Yomi Zakura / Shigotoshite P feat. Meiko
17. Tsunde Koi Uta / Lelele P feat. Kagemine Len
18. Sayonara Polaris / Nem feat. Gumi
19. Mataashita / Fuwari P feat. Hitsune Miku
Pre-order at CDJapan.