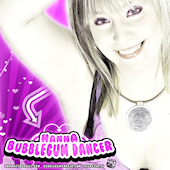 Bubblegum Dancer (Single)
Artist: Hanna Stockzell
Release Date: 5/25/11
Price: $3
Fantastic new solo single from Hanna Stockzell of Smile.dk. The single is dedicated to Bubblegum Dancer, the world's premier bubblegum dance site. The original mix includes some awesome bubblegum synths and guitars, not to mention Hanna's bubbly vocals. Meanwhile, speed fans will take an instant liking to the J-Mi & Midi-D remix. To make things even sweeter, 50% of profits go to UNICEF. Grab the single off Hanna's official website.
01. [3:51] Bubblegum Dancer
02. [5:06] Bubblegum Dancer (J-Mi & Midi-D Remix)
03. [3:51] Bubblegum Dancer (Karaoke)