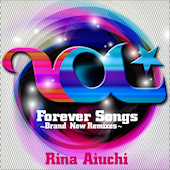 Forever Songs -Brand New Remixes-
Artist: Rina Aiuchi
Release Date: 9/28/11
Price: 2381 yen
New remixes of songs by the recently retired Rina Aiuchi. Akiba Koubou producers are heavily featured, but there are also Vocaloid producers and other top acts such as Remo-Con and Ram Rider. The album is also available digitally on iTunes Japan for 1800 yen.
01. [4:40] Close to Your Heart -ltns:D rmx-
02. [3:59] Miracle -Star Guitar Remix-
03. [4:56] Full Jump -DJ Command Remix-
04. [6:48] Koi wa Thrill, Shock, Suspense -Remo-con classic trance mix-
05. [4:37] Dream×Dream -Star Guitar Remix-
06. [4:09] Navy Blue -Ram Rider Remix-
07. [4:30] It's crazy for you -8#Prince Remix-
08. [4:46] Deep Freeze -Sumijun Remix-
09. [5:37] Run up -DJ Command Remix-
10. [5:08] Ohh! Paradise Taste!! -note native remix-
11. [4:22] Forever You ~Eien ni Kimi to~ -Ram Rider Remix-
12. [4:06] I can't stop my love for you -valle blanco mix-
Pre-order at CDJapan.