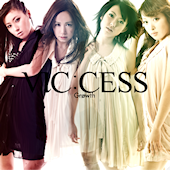 Growth
Artist: Vic:cess
Release Date: 11/23/11 ? 1/25/12 ? 2/1/12
Price: 1905 yen
Mini-album from the dance pop idol group. Sumijun of Akiba Koubou produced at least one of the songs on their first mini-album, but it's unknown if AKBK are involved with this release. And really, 2000 yen for only 6 songs?
01. Brand new world
02. Get Ready
03. Ano Kara no Iro to Boku no Koto
04. Life
05. Snow flake ~Hitohira no Yuki~
06. Reality
Pre-order at CDJapan.