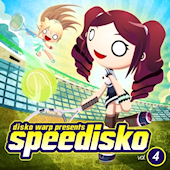 Disko Warp presents Speedisko Vol. 4
Release Date: 4/30/11
Price: $7.92
Speedisko Vol. 4 serves up another collection of HiNRG songs for your listening pleasure. Hyper Techno fans can't go wrong with the techno remix of "Erotic Chemistry." While I thought earlier Disko Warp forays into the world of Hyper Techno were less successful, the more recent ones have managed to better replicate the sound. Speaking of which, exclusive to Speedisko 4 is the extended version of Lucky Princess's "Text Me Too Much," which also features a techno sound.
As mentioned, all Disko Warp releases at Bandcamp are now "Name Your Price," with no minimum set. However, due to licensing issues, Speedisko Vol. 4 is currently available only at Amazon and iTunes.
01. [4:59] Jump Around (Speedisko Version) / Becky
02. [4:43] Werewolf Boyfriend (J-Mi & Midi-D Remix) / Fright Ranger
03. [4:31] One Two Three (You Love Me) (Disko Warp Speedy Mix 2011) / Lydia Nurbs
04. [5:11] My Shy Master (Initial P's Moe Breaker) / Reni Mimura
05. [4:05] This Is Now (Disko Warp Euro Mix) / Thomas Howard Lichtenstein
06. [4:39] Criminal Bounce / Initial P
07. [4:35] Erotic Chemistry (Hyper Techno Version) / Vandalet
08. [6:05] Text Me Too Much (Disko Warp Extended Mix) / Lucky Princess