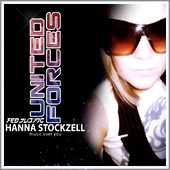 Music Over You (Single)
Artist: United Forces & Hanna Stockzell
Price: $3.99
New single from United Forces with Hanna Stockzell on vocals. It's more of an electro-house number, in contrast to Hanna's previous bubblegum dance outings. I'm not a huge electro fan, but the last track sounds like some damn fine piano house.
You can preview the entire radio edit at the Viverus Studios website.
01. [3:22] Music Over You (Radio Edit)
02. [5:19] Music Over You (Original Club Mix)
03. [3:52] Music Over You (QUBIQ Tribe Edit)
04. [6:22] Music Over You (QUBIQ Tribe Beat Dub)
05. [5:58] Music Over You (QUBIQ Extended Mix)
06. [4:28] Music Over You (Alternate Mix)