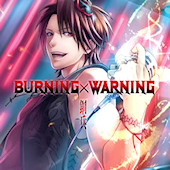 Burning × Warning
Artist: Kouhey
Release Date: 2/6/13
Price: 3000 yen (CD+DVD Edition) or 1905 yen (CD Only Edition)
Kouhey's first major album came out in 2010 under the Victor label, but it looks like the highly anticipated follow-up album will come from Avex. The new album features collaborations with noted Vocaloid producers including samfree, doriko, Darvish P, and 40mP. Guest vocalists include Sekihan and Shinichiro Suzuki. In addition to a CD only edition, there'll also be a CD+DVD version, with the DVD featuring Utattemita lessons. Visit Avex's official website or Kouhey's personal website for more info.
CD
01. Hyena / Darvish P
02. Henkaku Ron / doriko
03. Arcadia / feat. Sekihan
04. Rockin' Cinderella / Suck-It
05. Kiwami ~ugly blues~ / Marty Friedman and Shinichiro Suzuki
06. Hey Hey*Lazy Crazy Bomber Night / samfree
07. Cyber Thunder Cider / EZFG
08. Mousou Sketch / 40mP
09. Senbon Zakura / Kurousa and Sekihan
10. Ever Never / feat. Hiroshi Kitadani
11. Rolling Girl / wowaka and NoB
12. Tsumeato / Shuse
DVD
01. "Koushiki Sokkou! Jissen! Voice Training Kouza ~Zasshi deha Oshiete Kurenai How To Utattemita~"
Pre-order at CDJapan.