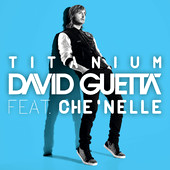 Titanium (Single)
Artist: David Guetta feat. Che'Nelle
Release Date: 2/6/13
Price: 500 yen
Special Japanese version of the hit David Guetta song, released to commemorate the "Ultimate" edition of "Nothing But the Beat." The popular songstress, Che'Nelle, provides the vocals for this new version. She doesn't quite match Sia's power, but it's quite novel hearing parts of the song in Japanese. Also features a new remix by a Japanese DJ, Mitomi Tokoto. Available on iTunes Japan.
01. [4:05] Titanium / David Guetta feat. Che'Nelle
02. [6:40] Titanium (Mitomi Tokoto Remix) / David Guetta feat. Che'Nelle