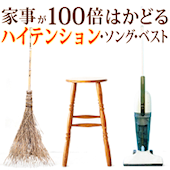 Kaji ga 100-bai Hakadoru High Tension Song Best
Release Date: 5/29/13
Price: 1905 yen
When Universal took over EMI I thought it would be the death knell for EMI compilations, but somehow they're releasing them more than ever. The digital version of this CD was released back in December. I have no idea why they waited 6 months to release the physical CD, though I'm assuming the CD version will have more than the 16 tracks that the digital version had.
01. My Sharona / The Knack
02. We Got the Beat / The Go-Go's
03. U Can't Touch This / MC Hammer
04. Are You Gonna Go My Way / Lenny Kravitz
05. Tubthumping / Chumbawamba
06. Karma Chameleon / Culture Club
07. Centerfold / J. Geils Band
Pre-order at CDJapan.