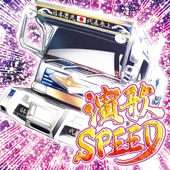 Enka Speed
Release Date: 5/29/13
Price: 1905 yen
Update (5/7/13): Cover art is out! I have no idea what a bus (RV?) has to do with Enka. The cover does look like it's by Mega Graphics, though it's disappointing they're not using the old, familiar SPEED logo.
I've also listed the original BPMs of the presumed 3 repeats on the album. The repeats originally ranged from 144-160 BPM. Needless to say, I really hope they rearrange them. Hell, I'll settle for just increasing the tempo, but no way in hell should the last song on a Speed album be only 160 BPM.
Update (5/2/13): Track arrangers have been revealed! Tks/Rayto was put in charge of a whopping 7 tracks, while valle blanco gets 5 and Ovrar gets 2. Relative newcomer Beat Charger is responsible for 3 tracks, and M. Sugawara makes his EMI/Dancemania debut with 2 new productions. Sadly, DJ Command only gets 1 track, and it's an existing production.
Final list is out! As expected, it's an Akiba Koubou release. The good news is that it's mostly new productions, with only 3 songs that previously appeared on other compilations. AKBK don't exactly have the best track record when it comes to Speed, however, as evidenced by the Utattemita Anison/J-Pop Speed compilations, which only ranged from a paltry 150-180 BPM. Speed fans know that the albums should be 170-200 BPM, so hopefully EMI instructed AKBK to really focus on the SPEED this time.
Still, I'm at least excited for the fact that it's not the usual repeat hell. Hopefully it sells well enough to justify the revival of the Speed series proper. It is the 15th anniversary of the series, after all, and I honestly wouldn't mind it if they released another Best album to commemorate the occasion. They could even throw in some of the new Saifam Speed tracks that have been made over the past few years.
So far only the vocalists for Enka Speed have been announced, with no mention of the track arrangers. Familiar utaite from AKBK's stable include Shihori, Kei, Satsy, Usa, and W-Y (Yamadan). There also appear to be some new names/aliases, including Mizuho, Mayuki, and Hiromi.
01. Mata Kimi ni Koishiteru / Shihori (Ovrar) (Original: Kiwami Euro Best, 152 BPM)
02. Kita Sakaba / Satsy (Tks)
03. Izakaya / Satsy (Tks)
04. Tsugunai / Kei (valle blanco)
05. 3 Nenme no Uwaki / Satsy (valle blanco)
06. Tomari-gi / Kei (Tks)
07. Anata ni Ageru / Usa (M. Sugawara)
08. Fuyu no Riviera / W-Y (valle blanco)
09. Otoko Gokoro wa Kaze Shidai / Mizuho (Tks)
10. Sukima Kaze / Mi->Na (Ovrar) (Original: Geki Atsu! Drama Euro Chanbara Hen, 144 BPM)
11. Makka na Taiyou / Mayuki (Tks)
12. Anta ga Shuyaku / Mizuho (valle blanco)
13. Michi no Ku Hitori Tabi / Satsy (Tks)
14. Kitaguni no Haru / W-Y (BeatCharger)
15. Kanhasshuu Nagare Tabi / Hiromi (valle blanco)
16. Chindo Monogatari / Kei (BeatCharger)
17. Jinsei Iroiro / Usa (BeatCharger)
18. Chigiri / Koushiro (Tks)
19. Ai no Mama de / Hiromi (M. Sugawara)
20. Ora Tokyo sa Iguda / DJ Kazma (DJ Command) (Original: Super Anime Remix Touge, 160 BPM)
Pre-order at CDJapan.