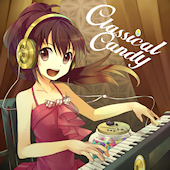 Classical Candy
Release Date: 5/1/11
Price: 1000 yen
It's RTTF week here at Dancemania EX, where I'll be placing a spotlight on the indie/doujin Japan label, RTTF.
RTTF's Classical Candy releases are probably my favorite from the label. As the title suggests, the album contains new dance arrangements of classical songs, similar to classical Speed or Exit Trance presents TranceMaster.
The opening track, done under DJ Hyuji's pseudonym, Speed Synth Symphony, is like a love letter to Dancemania Speed. At a staggering 200 BPM, "The Comedian's Gallop" perfectly encapsulates the SPEED sound and sounds like mix of CJ Crew and Saifam. Also recommended is Hyuji's "Night Queen," a cover of Mozart's "Der Hölle Rache kocht in meinem Herze" that comes complete with vocals and hyper techno elements!
Exit Trance fans will be delighted to know that Hommarju and MK both make appearances on the album. Hommarju does something delightfully different with a speed trance cover of the ragtime tune, "Pine Apple Rag." I officially want a Ragtime Trance album now. Meanwhile, MK contributes a fantastic ethereal trance arrangement of "Jupiter."
Tadashi Yamamoto offers a serene piano arrangement of "Gymnopedie," once again with a light dance beat. Meanwhile, DJ Croco's rock-trance cover of "Amazing Grace" evokes memories of N.O.-SYO. There's a fantastic amount of variety on this album, so if you're at all a fan of classical Speed or Exit Trance, I highly recommend it!
You can visit RTTF's official website for a crossfade demo. If you're interested in ordering, DJ Hyuji speaks English and is willing to ship overseas. You can contact him here: http://rttf.eternalbreeze.net/contact.html Just make sure to turn your ad blocker off if you have one installed, otherwise the form won't appear.
01. The Comedians Gallop, Op.26-2 (Speed Remix) / Speed Synth Symphony
02. Pine Apple Rag / Hommarju
03. Final Frontier / Thanatos
04. Night Queen / Hyuji feat. Emyuu.
05. Autumn Sketch (Eurobeat mix) / T-Effect
06. Jupiter (MK Remix) / MK
07. G-space / Maya Akai
08. Meguru Kisetsu ni Haru Kitaru. (radio edit) / heric
09. Gymnopédie No.1 (Tadashi Yamamoto remix radio edit) / Tadashi Yamamoto
10. A Mind filled with Flowers / Yunyun
11. Break the Tactics / Itcha
12. Amazing Grace (Hardstyle Rock Mix) / DJ Croco
13. Crazy Note Fireball / RedOgre
14. Itoshiki Haru ni / Luna
15. No 9th (UK Pop Remix) / Takahiro Aoki