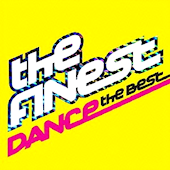 The Finest -Dance The Best-
Release Date: 9/18/13
Price: 2171 yen
A new dance compilation from Warner Music. The Finest is an R&B compilation series similar in vein to EMI's VIP or Universal's What's Up. In fact, Universal and Warner collaborated on a The Finest × What's Up release as well as on What's Up × The Finest.
This CD was originally conceived as a 2-CD set titled The Finest The Best of Best R&B / Dance / Hip Hop. However, dance is back in fashion now, so Warner apparently decided to ditch the R&B/Hip-Hop and went for a single-CD dance compilation instead. Also, CD Japan list it as "The Finest -The Dance The Best-," which I find mildly amusing for its overuse of articles.
01. Marry You ~ Futari no Mirai / Bruno Mars
02. Densetsu no Young Man ~We Are Young~ / Fun. feat. Janelle Monae
03. Omoide no I Cry / Flo Rida
04. Starships / Nicki Minaj
05. We Run the Night / Havana Brown feat. Pitbull
06. International Love / Pitbull feat. Chris Brown
07. Mr. Saxobeat ~Koi no Daisakusen~ / Alexandra Stan
08. Crazy Sexy Wild / Inna
09. Shut Up and Dance / Victoria Duffield
10. Wish You Were Here / Cody Simpson feat. Becky G
11. Breathing / Jason Derulo
12. Touch the Sky / Sean Paul feat. DJ Ammo
13. Get Up (Rattle) / Bingo Players
14. Who Is Ready to Jump / Chuckie
15. You're Gonna Love This / 3OH!3
16. One Night / Cobra Starship
17. Ass Back Home / Gym Class Heroes feat. Neon Hitch
18. 2 Reasons / Trey Songz feat. T.I.
19. Show It Off / DJ Lead feat. Jim Jones & AI
20. Out of My Mind / B.o.B feat. Nicki Minaj
21. Around My Way (Freedom Ain't Free) / Lupe Fiasco
22. Got Everything / Wiz Khalifa feat. Courtney Noelle
Pre-order at CDJapan.