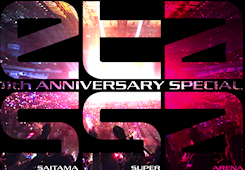 Koharu Sakurai presents Exit Tunes Academy -11th Anniversary Special- @20130407 Saitama Super Arena
Release Date: 12/18/13
Price: 4286 yen (Blu-Ray Edition) or 3333 yen (DVD Edition)
The Exit Tunes Academy live tour has been a huge success for Exit Tunes, and this December they'll be celebrating the 11th anniversary of the Exit Tunes brand with a special DVD/Blu-Ray release featuring footage shot during the performance at Saitama Super Arena. Almost 18,000 people attended the event to watch ETA artists like Mayumi Morinaga, Shamuon, recog and others perform live.
Both the DVD and Blu-Ray releases will come with a cell phone strap, poster, and clear file. You can visit the official website for more info.
01. Affection / Another Infinity feat. Mayumi Morinaga
02. E? Aa, sou. / Chouchou P feat. Michaon
03. Glitter (Starving Trancer SSA Ver) / Another Infinity feat. Mayumi Morinaga
04. Kochira, Koufuku Anshin Iinkai Desu. / Utata P feat. ?? (Underbar)
05. Kotoba Meteor / L.I.N.E
06. shiningray / 164 feat. Shamuon
07. Japanese Ninja No. 1 / Dead Ball P feat. recog
08. Juu Mensou (Freedom Ver.) / YM feat. ?? (Underbar)
09. Setsuna Trip / Mayumi Morinaga
10. Hatsune Miku no Shoushitsu / cosMo @ Bousou P
11. Hatsune Miku no Bousou / cosMo @ Bousou P
12. Haru ni Ichiban Chikai Machi / 40mP feat. Shano
13. Hikoukai Nisshi / Mikito P feat. Shamuon
14. from Y to Y / Jimmy Thumb P feat. che: sakurai
15. Poker Face / Yucha P feat. recog
16. Reboot / Jimmy Thumb P
Pre-order at CDJapan.